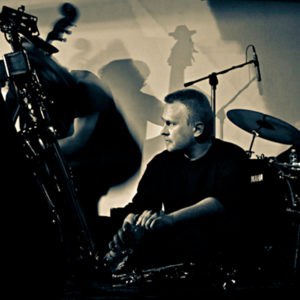 Lives in Warsaw and has released three albums under his name (Istina, Bugle Call and Response, Prolegomena), and the sound cartoon Robot Czarek to which he wrote libretto either. He leads the group Zebry a Mit. Their new album will appear in a minute.
Apart from that, many adventures in projects led by outstanding composers of his generation (Arturas Bumsteinas, Marcin Masecki, Piotr Kurek) and few special one-time concerts with older icons (Jan Jelinek, Fred Frith). Sporadically he writes short stories and one got even published.
Kamil Szuszkiewicz collaborated with Pictorial Candi for the Opendoor Edition of Waywords and Meansigns in 2017, recording page 615 line 12 through page 619 line 16.