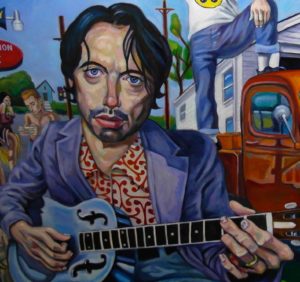 Hi, my name is Jon Wahl…
I've been a band leader since high school in 1979 when my first group, The Idle Rich, opened for The Weirdos at this biker bar in the hippie ridden Chino Hills, about thirty miles east of Los Angeles. As a kid, art was my calling, the visual arts: graphic design, figurative sculpting, painting. But music took the front burner soon enough. Since then it's been up hill, down hill, sideways and inside out in music.
After a short stint with The Pontiac Brothers (headed by The Gun Club's Ward Dotson), I formed Claw Hammer in 1986 which lasted until 2000, recording with Interscope and Epitaph Records.  Following that I began my own group Jon Wahl and the Amadans, tucking four full length releases under the belt on Birdman Records and Elastic Records. I also joined other groups as a sideman playing tenor saxophone with East L.A.'s own Ollin and with Slowrider.
I've had the honor and pleasure to work with the likes of Ry Cooder, Wayne Kramer (MC5), The Pogues, Mark Mothersbaugh (DEVO), El Vez, Mudhoney, Moris Tepper (of Captain Beefheart fame!), Little Willie G (Thee Midniters), Ozomatli, producers Brett Gurewitz, Sally Browder and Jim Dickinson, Jon Spencer Blues Explosion, Andre Williams, Pink Mountaintops, The Icarus Line, Keith Morris (The Circle Jerks, Black Flag), The Bassholes, The Muffs, The Humpers, Bad Religion, et al.
Throughout this journey, the likes of James Joyce, Flann O'Brien, Jorge Luis Borges, et al, helped rewire and rewire and rewire the labyrinth of my brain. 
Jon Wahl contributed to the Opendoor Edition of Waywords and Meansigns in 2017, recording "Abusive Names", page 71 line 10 through page 72 line 16.