John Cerreta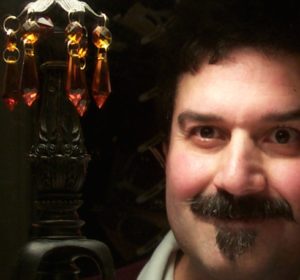 calls himself a composer. He has loved, worked, played, eaten, run fast, jumped high, limboed, worn spandex and lived in a crawlspace for many self-indulgent years.
He is probably known best for his yet to be released soul-searching memoir and coloring book Piddles in the Pee Pee Parlour, Much Ado About Nothing, the self-examination of an aging artist coping with a relentless sense of urgency, and also for his work with Atlanta's Center for Puppetry Arts.
Eavesdropping, his 15-song song cycle created from disjointed snippets of conversations overheard in a coffeehouse, has been performed as experimental music theater and can be viewed in a sequence of fifteen videos on Vimeo. Cerreta scored eight videos used in a production of the play Two Rooms by Lee Blessing. These can also be viewed on Vimeo. Selections of original music are available for listening on Soundcloud.
Mr. Cerreta does so enjoy fiddling about on his computer. Occasionally he turns it on. He has studied. He is delighted for this opportunity to share.

John Cerreta contributed to the Opendoor Edition of Waywords and Meansigns in 2017, recording "Stoop to Prittle", page 18 line 17 through page 21 line 4.