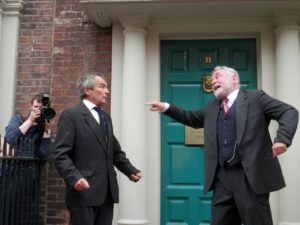 The Here Comes Everybody Players, a Boston, Massachusetts-based theater group, focuses on dramatizations of the work of James Joyce, and other Irish authors and playwrights. We use the medium of drama and music to make Joyce's unusual and sometimes linguistically challenging writings accessible to audience members who may not be familiar with Joyce or who may find solitary reading of the books somewhat intimidating. Our performances not only celebrate the richness of Joyce's unique language, but also bring to vivid life the humor and humanity of his characters and stories. The HCE Players have performed at Dublin's Bloomsday Festival, the James Joyce Centre, and more. In November 2015 the HCE Players performed a staged reading of Mary Manning's Passages from Finnegans Wake. In June 2016 they brought Joyce to Spain, by participating in the 2016 European City of Culture Festival in San Sebastian.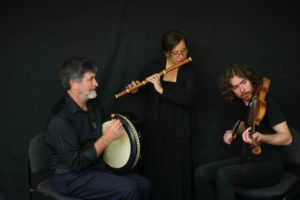 The Here Comes Everybody Players contributed to the Opendoor Edition of Waywords and Meansigns in 2017, recording page 3 line 10 through page 10 line 24.
Credits — Voices: Gillian Mackay-Smith, Donal O'Sullivan and Cahal Stephens. Music: Lidia Chang, flute; Sean Connor, fiddle; and Tony Keegan, percussion. Recording by The Podcast Garage. Editing and mastering by Jonathan Hurrell and Cahal Stephens.