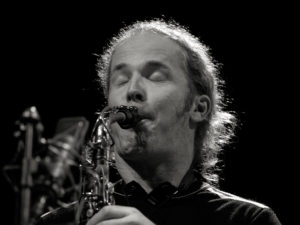 Born and raised in New Zealand, Hayden Chisholm has risen to become one of Europe's most distinctive and innovative voices on the saxophone. After studying in Cologne with a DAAD scholarship he continued his music studies in Japan and India. His compositions have been recorded by BBC and WDR radios and he has toured extensively worldwide as a soloist. He has created music for the installations of seminal artist Rebecca Horn as well as composing music for the acclaimed film "Moon Mirror Journey." He is credited with developing a new microtonal language for saxophone in the mid 90s. In 2011 he launched the Moontower Foundation Music edition
Hayden Chisholm contributed to the first edition of Waywords and Meansigns, recording Book II Chapter 3, "The Stories: Tavernry in Feast".
Credits — recorded by Robert Nacken at Nucamusic Studios in Cologne and by Hayden Chisholm in the Moers Residence house, and at Sant Vicenc beach in Mallorca.
Hayden Chisholm also contributed two recordings to the Opendoor Edition of Waywords and Meansigns in 2017. The first recording is page 107.
Chisholm's second 2017 recording is page 597 line 24 through page 598 line 27. You can see a video of Hayden's reading here.