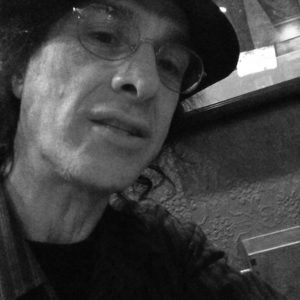 Graziano Galati is aka Zendiyogi, an artist who found his voice as a combination of his own spoken word and the musical settings he creates and performs. He has studied spirituality in literature all of his life, and has spent a lifetime teaching literature to teens in high school making it a point to introduce them to Joyce's Portrait of the Artist. Five years ago at 55, he discovered Yoga through the teachings of Sadie Nardini, and has since developed a personal Ashtanga practice from whence much of his poetry evolves. Poetry and music are a staple of his daily practice for which he has composed settings for the entire two hour sessions. Samples of his work can be viewed on his YouTube channel which currently contains over 120 compositions.
Graziano Galati contributed to the first edition of Waywords and Meansigns, recording Book III Chapter 4 "Humphrey Chimpden Earwicker
Graziano Galati also contributed second edition of Waywords and Meansigns, recordingand Anna Livia Plurabelle: Their Bed of Trial" and Book IV Chapter I "Ricorso" complete with circular return to Book I Chapter 1 "The Fall".
Credits — a Zendiyogi production, with special thanks to Joe Galati for the formative years of jamming and his introduction to recording techniques, to Sadie Nardini for her teachings that helped to re-ignite my artistic voice giving me the confidence to be my own artist, to Adam Harvey whose production of Don't Panic: It's only Finnegans Wake at the New York Fringe impressed me to no end and set a standard for me to strive for, and to Derek Pyle for creating the space for the emergence of this work.
Graziano Galati also contributed to the Opendoor Edition of Waywords and Meansigns in 2017, recording page 66 line 28 through page 67 line 6.