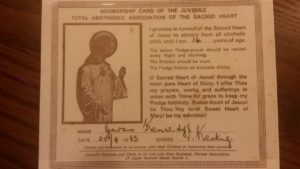 Gavan Kennedy spent his deformative years near the village of Glasson where the dark mutinous Shannon waves continue to break upon the westerly swerve of County Westmeath. His conviction for breach of contract with the Sacred Heart of Jesus not to drink alcohol before the age of 14 (attached photo) led to his inevitable journey Westward. Noting his "congenital inability to serve", the Magistrate offered the penitent the option of continued crucifixion upon the crossbeams of Rome and Whitehall, or exile to Amerikay. Generous tears filled the penitent's eyes following his decision, but 'twas tAmerikay 'twould be.
His soul swoons slowly whenever snow falls faintly in Washington DC, since he reckons the same snow faintly falling, is also falling faintly upon the lonely churchyard, and upon the dark mutinous Shannon waves, of his youth.
Gavan Kennedy contributed to the Opendoor Edition of Waywords and Meansigns in 2017, recording chapter seven, page 169 through 195. The chapter was recorded live at Burning Man, from an assortment of first-time Wake readers.