Gareth Flowers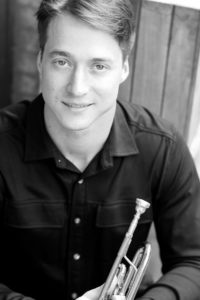 is an American trumpeter, composer, and sound artist. He is based in the New York City area, and is a member of the International Contemporary Ensemble (ICE). He has had numerous forays into the world of orchestral music, including stints with the Seoul Philharmonic, San Fransisco Symphony, and Metropolitan Opera Orchestra. He has self released his electro-acoustic improvisations on his own label SoundFlowers, on Sunshine Ltd, and on Tandem Tapes. Recently, he has been performing with ICE, TILT Brass, The Practical Trumpet Society, Either/Or, the Wet Ink large ensemble, and the St. Paul Chamber Orchestra. He relishes these forays into the world of James Joyce, and hopes to continue writing music for audiobook formats or similar.

Gareth Flowers contributed to the first edition of Waywords and Meansigns, recording Book III Chapter 1, "Shaun before the People". Gareth Flowers will also contribute to our 2017 release.
Gareth Flowers also contributed to the Opendoor Edition of Waywords and Meansigns in 2017, recording page 256 line 1 through page 259 line 10.