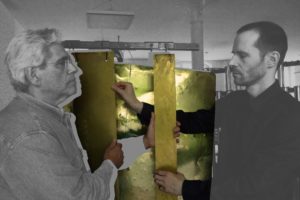 duo-mono-lith / David Moss & Boris Hegenbart
(two travelers in the world of sound)   
David Moss – vocalist, composer (voice)
Boris Hegenbart – performer, composer (electronics), producer
Moss, with his unpredictable vocal fantasies, meets Hegenbart and his machinery of sonic disassembly. Using Moss' roaring river of vocality as source material, this duo rises from an energized ocean of sound.
duo-mono-lith combines minimalistic rhythmic variations, voice cut-ups, personal electronics and eccentric storylines. duo-mono-lith is layers and revelation mixed with the poetry of daily life.
David Moss is considered one of the most innovative singers in contemporary music.  He has performed his solo and theater work from New York (Lincoln Center) to Venice (Theatro La Fenice) to Brisbane (Festival). In 1991 he received a Guggenheim Fellowship; in 1992, a DAAD Fellowship (Berlin).
Moss has sung with the Berlin Philharmonic under Sir Simon Rattle, and made his Carnegie Hall debut with the American Composers Orchestra. He was twice a featured soloist at the Salzburg Festival. He was a 2008-09/2016-17 fellow of the  "Interweaving Performance Cultures" research center at the Freie Universität, Berlin. He has been the artistic director of the MADE Festival in Sweden and is the co-founder/artistic director of the Institute for Living Voice , which has conducted master classes, workshops and seminars internationally since 2001. In 2016 he celebrated 25 years living in Berlin by curating a concert for the DAAD MikroMusik Festival.
Boris Hegenbart, from Berlin, Germany. Composer and performer of electroacoustic music and sound-art since 1996. Sound installations, electroacoustic concerts, performances, workshops and lectures in Europe, Asia and America. Soundscapes for theatre plays, dance performances and experimental radio- and video-art. Solo-performances and collaborations with different performers, composers, improvisation musicians and ensembles: Zeitkratzer, Kairos Quartett, Michael Vorfeld, Stephan Mathieu, David Grubbs, Fred Frith, Martin Brandlmayr, Felix Kubin, and many others. At Transmediale, Club-Transmediale, MaerzMusik, Inventionen, Steirischer Herbst and at many other venues.
"Boris Hegenbart, whose collages sound like meditations at a street crossing with an invading swarm of locusts." – (taz Berlin)
duo-mono-lith / David Moss & Boris Hegenbart contributed to the Opendoor Edition of Waywords and Meansigns in 2017, recording "stepping the tolks", page line through page line .332.10-333.0