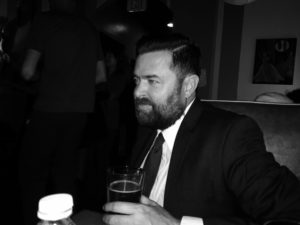 Dameon Merkl is a writer, musician and linguistic historian from…let's say Denver, Colorado. He is charming and handsome and not entirely sober. He is a friend to animals and sometimes eats them. That bit about being a linguistic historian is a bit of a stretch. He's really just some dude.
Dameon Merkl contributed to the Opendoor Edition of Waywords and Meansigns in 2017, recording "Last ye, lundsmin", page 372 line 23 through page 373 line 12, a collaboration with Haunted Robot, Ltd.
Credits — Music written and performed by Cary Haun; spoken word by Dameon Merkl; additional vocals by Fiona Merkl.