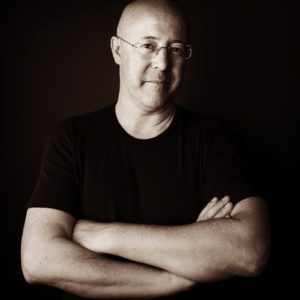 Composer/singer/sitarist Chris Rael has led New York's experimental world pop ensemble Church of Betty for 30 years. Exploring styles from rock to orchestral to Indian folk and classical to the avant garde, he has produced 30 albums, 500 songs, and performed around the world in venues such as Sydney Opera House, Lincoln Center, the Kennedy Center, and Secession in Vienna. Over the years he has worked with Penny Arcade, Stew, David Byrne, Jayne County, Annabella Lwin, Curt Smith, Elliott Sharp, Shara Worden, Oasis, and numerous fine Indian classical artists. A recent recipient of the Acker Award for lifetime achievement, he also received the Outfest Film Festival Soundtrack Award in 2005 and the New York International Fringe Festival's Composition Award in 2011 for Araby, his musical based on the short stories of Joyce's Dubliners. 
Chris Rael contributed to the Opendoor Edition of Waywords and Meansigns in 2017, recording page 10 line 25 through page 16 line 9.
Credits — Chris Rael: voice, guitar, bass, Wurlitzer, sitar and chimes.