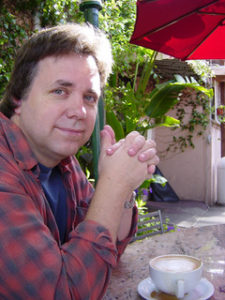 Bruce Woodside is a Los Angeles-based animator/writer/musician and dedicated reader of James Joyce, having first encountered A Portrait of the Artist as a Young Man at the tender and impressionable age of fourteen. Over the decades, he has returned to Finnegans Wake many times solo and as a participant in a variety of Wake reading groups.
Recently retired from an over forty year career in animation working for companies including Walt Disney and Warner Bros., he has "recirculated" back once again to the Wake for inspiration in his latest work. As a musician, he has supplied soundtracks for his own films; and, together with fellow cartoonist and friend Peter Gullerud, he records and plays keyboards in local venues as half of the duo Uzima.
His personal films can be seen online at Vimeo as well as on YouTube; and in 2006 he published Chronological Order, a collection of his poetry and fiction.
Bruce Woodside contributed to the Opendoor Edition of Waywords and Meansigns in 2017, recording page 540 line 9 through page 550 line 3.