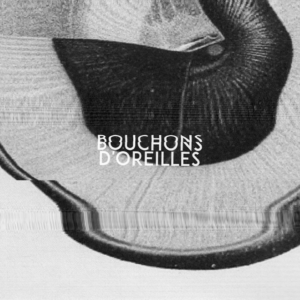 Bouchons d'oreilles is a duo composed of Łukasz Kacperczyk and Mateusz Wysocki, joined by Wojtek Kurek for Waywords and Meansigns.
Łukasz Kacperczyk – free improvising musician working with modular synthesizers and similar devices to explore the sonic potential of the electroacoustic ensemble. Values space, immediacy and restraint in sound production. Performs live and records solo as well as in various groups, including: Bouchons d'Oreilles (Astral Spirits), Cukier (Pawlacz Perski/Wounded Knife), Paper Cuts (Wounded Knife), Modular String Trio (Multikulti/Clean Feed), Warsaw Improvisers Orchestra (Astral Spirits).
Mateusz Wysocki – born in Białystok in 1985. Lives and works in Warsaw. Musician and producer whose diverse creative interests include electroacoustic music, prepared field recording, dub techno, instrumental hip-hop and radio drama dedicated to, inter alia, ethnic minorities. His sound installations were presented in Poland, Greece, Ireland, USA, Italy and several other countries. His music was released by various labels, including: Minicromusic, MonotypeRec, Further Records, Resopal Schallware, Crónica, Astral Spirits / Monofonus Press, Farbwechsel, BDTA, Where To Now?, Wounded Knife, Chemical Tapes, U-Cover, Czaszka Records, Entropy. Regularly collaborates with Lech Nienartowicz (Porcje Rosołowe), Michał Wolski (Mech) and Łukasz Kacperczyk (Bouchons d'Oreilles). He runs a tape label Pawlacz Perski.
Wojtek Kurek –
Drummer. Improviser. Musician.
Plays in Paper Cuts, Chryste Panie, and Warsaw Improvisers Orchestra.
His solo project is called Warten.
Played dozens of improvisation gigs across Poland.
Worked with Lukas Ligeti, Phil Minton, Tadeusz Sudnik, Mateusz Wysocki, Łukasz Kacperczyk, Ray Dickaty, Barbara Kinga Majewska.
Bouchons d'oreilles contributed to the Opendoor Edition of Waywords and Meansigns in 2017, a collaboration with Krzysztof Bartnicki. They recorded chapter two of the Finnegans Wake, page 30 through 47.
Credits — Krzysztof Bartnicki: voice(s); Mateusz Wysocki: modular synth, turntable; Łukasz Kacperczyk: modular synth, benjolin, tetrax; Wojtek Kurek: drums, amplified objects; Jacek Szczepanek: voice processing.